Culinary and Cooking Holidays in Spain
Browse through our tours of Spain below or customize your own tour. Contact us for more details...
---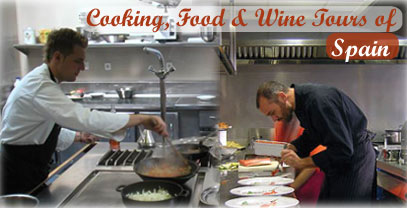 Cooking, Food & Wine Tours of Spain - In the recent February issue of Food & Wine Magazine there is a great article featuring Spain's Top Food Critic Josť Carlos Capel discussing issues like "Why is Spain the world's most exciting food destination right now?" more... As well in this same issue Anya Von Bremzen gives some insider tips on... "Where To Go Next: Catalonia, Madrid, Galicia | Spain" This year we have many new exciting culinary & cooking holiday and deluxe wine tours for travelers who would like to savor Spain with a Gourmet Appetite!
Culinary and Cooking Holidays
---