Tours of Madrid and excursions in Spain
Browse through our tours of Spain below or customize your own tour. Contact us for more details...
---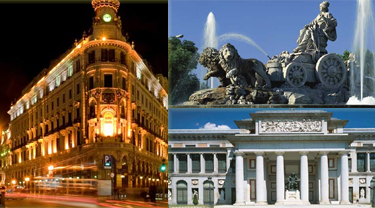 Discover the majestic capital of Spain. Madrid offers a variety of tours and excursions for all types. Buildings and monuments of the city noteworthy areas in the ancient Austrian and Bourbon quarters, the nineteenth century new street layout, etc. Explore the city's historic monuments such as Madrid's Royal Palace; A magnificent XVIII century building. It is one of the most beautiful palaces in Europe. While in Madrid you could start off with a private or group half-day tour of the famous Royal Palace and Prado Museum. Then on another day take a scheduled group or private chauffeur-driven day tour to Toledo. During the evenings you could enjoy a Flamenco Show and Dinner as a private or group tour. Also another popular evening event to get to know the city's best bars on foot would be a private or group tapa tour. If you have more days in Madrid you could try a VIP private or deluxe group wine tour to Ribera del Duero. A visit Avila and Segovia in group or private tour is also another excellent day trip. The list goes on for half-day or full-day private tours and also group half-day or full-day excursions from Madrid.
Tours available from Madrid
---